If you are looking for your next backpacking adventure – this has to be your first choice! If you want your very first journey as A Backpackers Guide to the Heart of Bhutan to be filled with unforgettable adventure – you've just placed your finger on the right destination.
Or
If you want to venture into new lands and cross another country off your travel bucket list – this has to be the place.
The Kingdom of Bhutan in South Asia is not only known for its untouched culture and traditions but its vast geographical diversity.
As a country that still remains largely isolated from the rest of the world, the exalted cliffside monasteries, serene riverside palaces, and the architecturally rich medieval fortresses make Bhutan a place of great cultural significance.
Bhutan's landscape ranges from lush green subtropical forests in the south to sub-alpine Himalayan mountains in the north, including "Gangkhar Puensum" which has the distinction of being the highest unclimbed mountain in the world. Home to several endangered species and rare plants, this little country is also one of the most biologically diverse in the world.
If you want to experience Bhutan in all its glory,  then what's better than going straight to its capital! Thimphu is not just the capital of the country but also the largest city and the center of economics.
Surrounded by majestic snow-capped mountains, situated within the valley of the Raidāk River and a true reflection of the culture, Thimphu boasts of all that Bhutan stands for as a country and much more!
As a learned backpacker or a first-timer, here are our top 10 recommendations of places to have on your itinerary as you plan your trip to the magical city of Thimphu.
1)Tango/Cheri Goemba Hike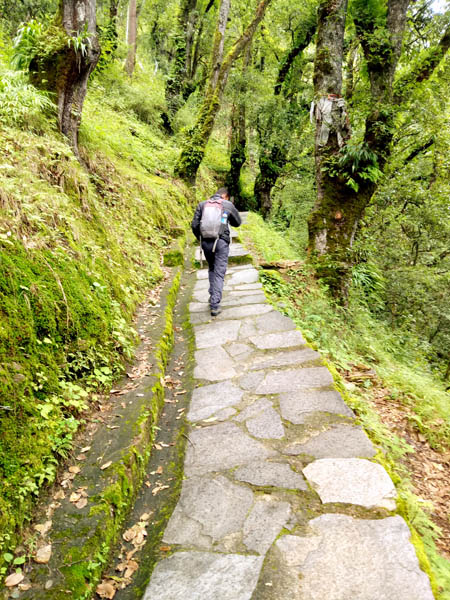 Sitting on top of two adjacent hills and boasting of the serene Thimpu Chu River flowing between them, the Tango Goemba and Cheri Goemba monasteries are the perfect hike destinations. Cheri Goemba, Bhutan's first monastery is a hike of 45 minutes and a popular meditation retreat center.
You get to walk along the river and cross the beautiful Cantilever bridge before you begin your trek to Cheri Goemba. Keep your eyes peeled for a herd of deer or mountain goats as you trek through the green forest!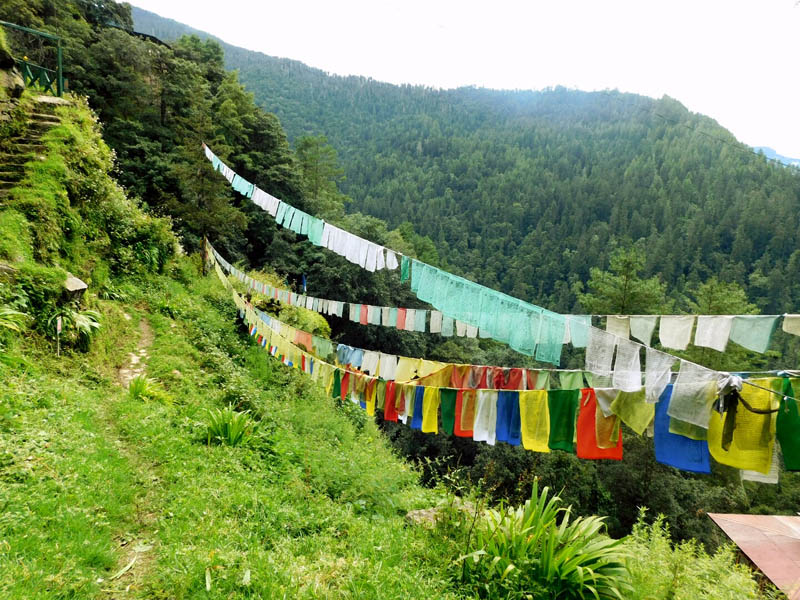 The trek upwards to the fort-like Tango Monastery means walking through a forest full of oak trees, wildflowers, and small silent streams.
The hike to Tango Goemba is a climb of about 900 feet which you can finish in half an hour if you choose the steeper trail or one hour if you choose the more gradual trail.
The 3 storied Tango monastery built in the 12th century holds great spiritual significance and is home to a young boy who is considered the reincarnation of the 16th-century monk who built Tango.
There are several temples within the monastery that you can visit that hold ancient artifacts and statues of various religious figures including Buddha.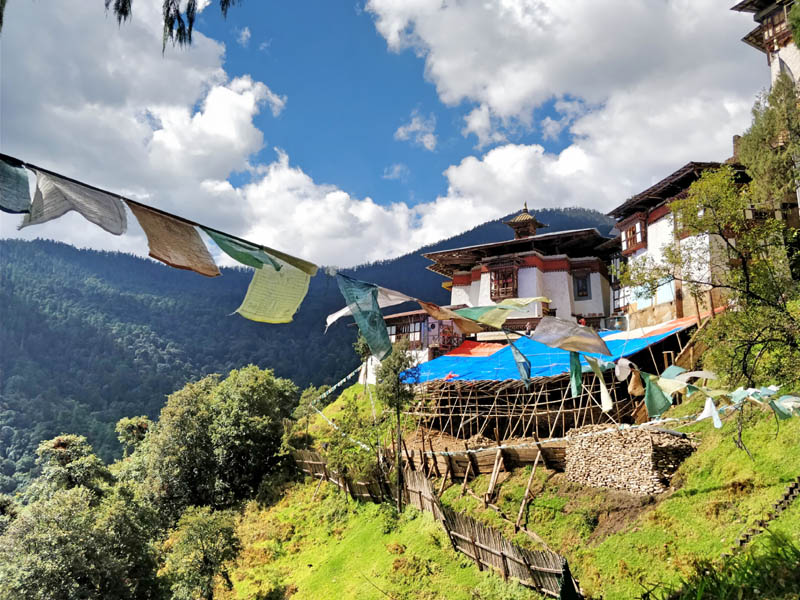 The trek up the 2 hills is assured to be meditative and rejuvenating!
2)The Buddha Dordenma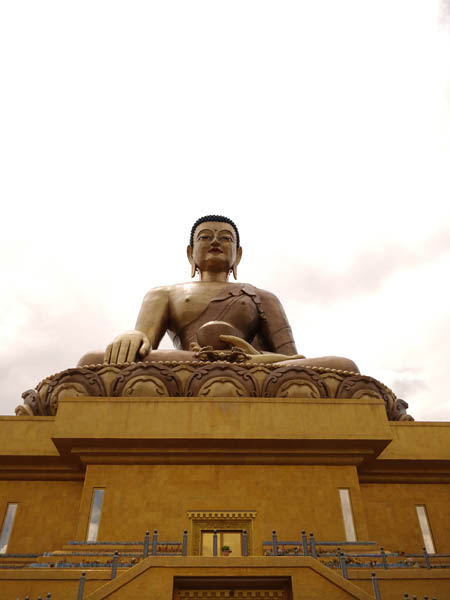 Made of bronze and gilded in gold and located atop a hill in Kuenselphodrang Nature Park, the 51 meters tall "Buddha Dordenma" is one of the largest Buddha Statues in the world. The statue is made up of 125,000 smaller Buddha Statues and it's throne sits upon a large meditation hall, the interiors of which are made up of intricate wall murals. This popular tourist spot boasts of a spectacular view of the Himalayan ranges!
3)Motithang Takin Preserve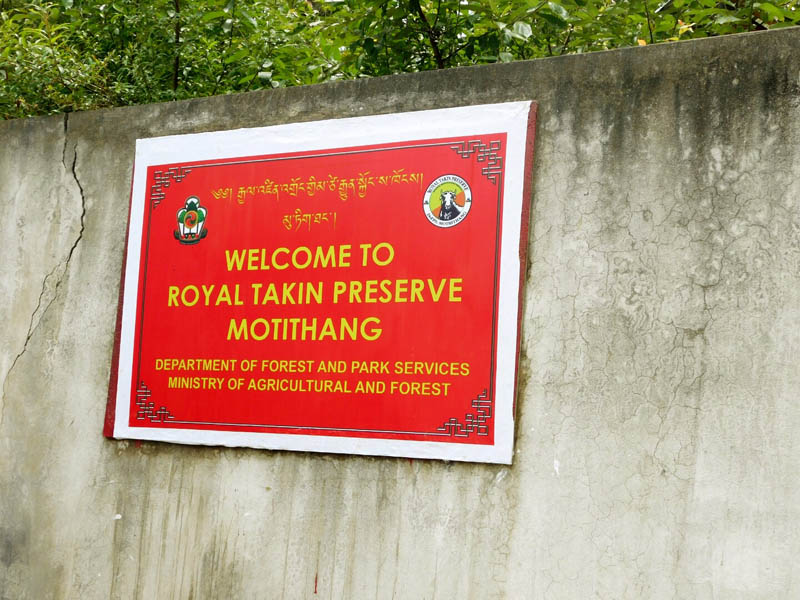 The district of Motithang is a wildlife reserve area in the Thimpu District for Takin, Bhutan's national animal. Takin is the national animal of Bhutan. The Takin is a cow-goat hybrid and as per local legends, a Tibetan saint called  Drukpa Kunley magically created the Takin with such unique features.
As per biological research, however, the Takin is more akin to sheep than to the goat.  The preserve is also home to the sambar and the barking deer. Other rare animals will be released into the preserve in the future, making it a must-see when at Thimpu.
4)
Tashichho Dzong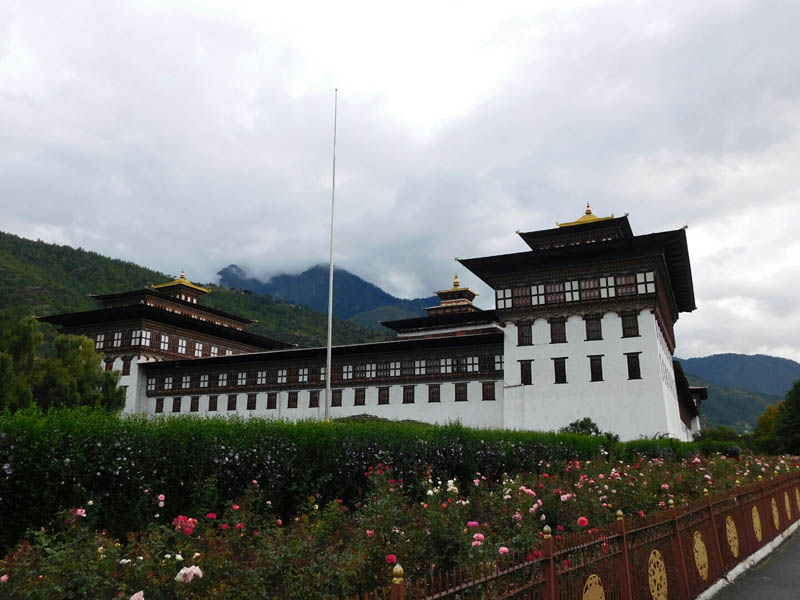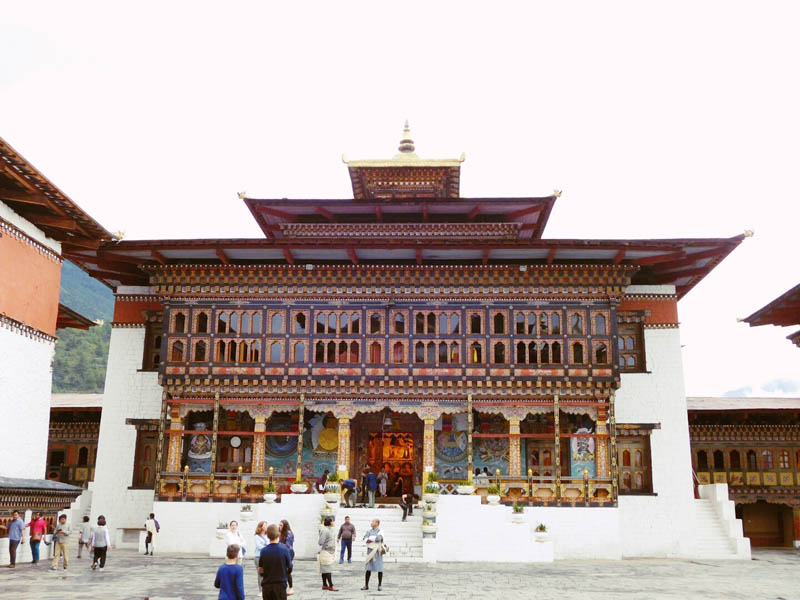 Tashichho Dzong is a large Buddhist monastery and fortress that sits on the western banks of the Wang Chu River. Surrounded by lush lawns and beautiful rose gardens, the Dzong houses the offices of the King and the Throne Room. Also, known as "the fortress of the glorious religion" the Dzong is a landmark of Thimpu.
5) Folk Heritage Museum
If the culture of Bhutan is what draws you most towards the country then the Folk Heritage Museum gives you a live demonstration of daily life in Bhutan. Apart from displaying ancient rural artifacts, this museum conducts innovative demonstrations that give you an immersive experience of rural Bhutan at a nominal fee.
Witness the traditional Bhutanese methods of extracting oil, roasting rice, and brewing ara or Ara Kayne (a local drink). If that isn't enough, get yourself a seat at the open-air buffet which serves an array of traditional cuisines from across the Kingdom. This is a unique cultural experience you'll never forget.
6) Clock Tower Square
Engraved with traditional carvings and designed with 4 clock faces, the Clock Tower located at the heart of the capital is a famous landmark of Thimpu.
The golden handcrafted dragon on each of the 4 clock faces serves as a symbol of an independent dragon kingdom. Dotted by 3 storeyed buildings which hold cafes, restaurants, and pubs, the clock tower square sometimes holds live music performances, karaoke events, and film festivals.
There are also shops that sell everything from trinkets to household items. Your Bhutanese experience isn't complete without a pleasant evening at the square.
7)Weekend Market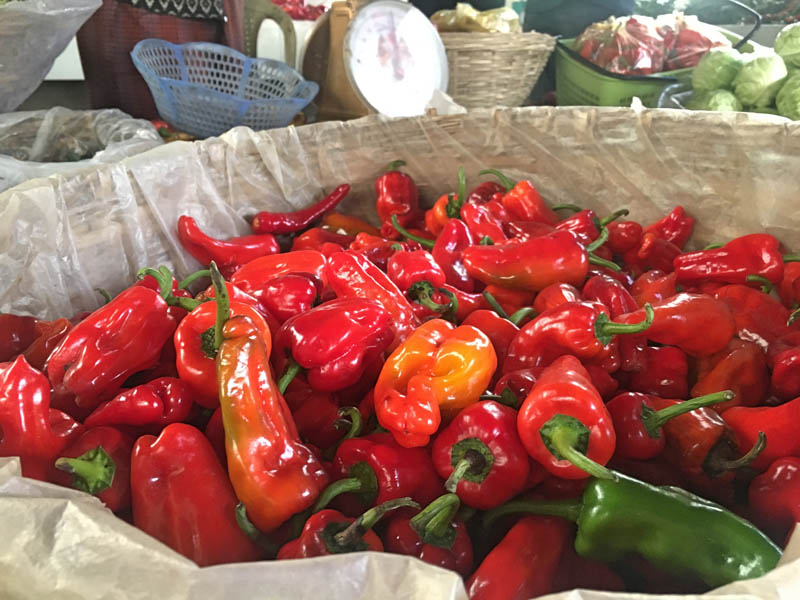 Just 10 minutes away from the clock square is the largest domestic market in Bhutan called the Centenary Farmers market.
The market is open on all days except Monday but vendors arrive from all over the country on Thursday and Friday and stay until Sunday. Making these 3 days the best time to acquaint yourself with the fresh produce and local harvest of the region. This is an ideal place to learn more about the constituents of the Bhutanese diet.
Across the Kundeyling Baazam cantilever footbridge from the weekend market, is the handicraft market. You can choose from hundreds of retailers and buy authentic Bhutanese trinkets. This is the place to pick up souvenirs and little gifts for your loved ones.
8)The Thimpu Post Office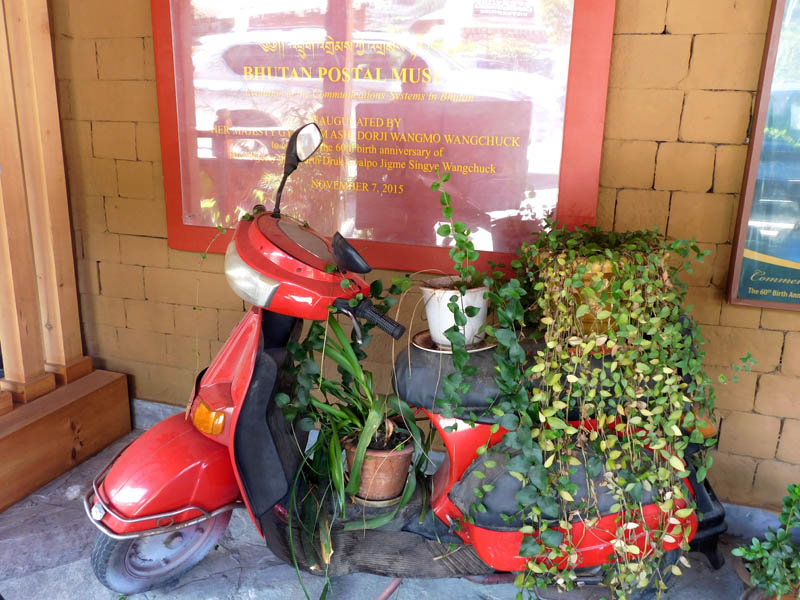 If you are old school and still love the sentiment that comes with sending a postcard with a stamp on it then the Thimphu Post office will do you one better! The post office has a large collection of stamps on sale and the specialty of this post office is that you can get a postage stamp with your own photo on it which can be used as a real stamp!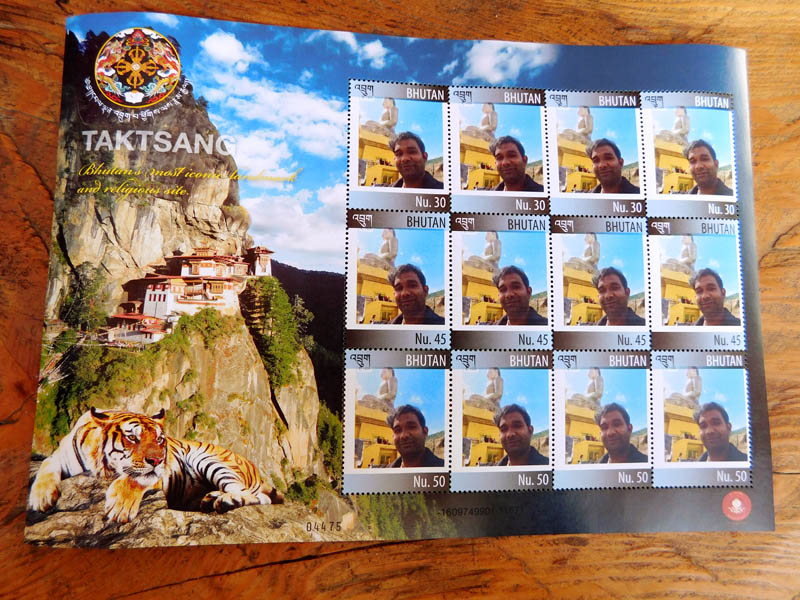 9) Changangkha Lhakhang Temple
Perched like a fortress on a ridge and offering majestic views of the valley, Changangkha Lhakhang is one of the oldest temples in Thimphu. Dedicated to Avalokiteshvara, the Buddhist emanation of compassion, it is just a short walk from Clock Tower.
The wall of the temple is lined with prayer wheels waiting to be spun and lamps can be lit as offerings in the courtyard. Parents pray to the protector deity "Tamdrin" for blessings for their children or to request auspicious names for newborn babies. The Changangkha Temple is a beacon at night that can be seen from miles away.
10) A Night out in the Kingdoms Capital
:
If you want to spend an evening out as a part of your Bhutanese trip then you won't be disappointed. Some of the nightclubs in the capital have been host to many renowned names such as Mick Jagger, Sting, and Cameron Diaz.
Head to Vivacity or Space34 for a night of dancing. If you prefer live music then Mojo Park is more for you or if you want to mix with the locals as you listen to electronic music then Club Ace is your place for the night!
Some of us are drawn by the intricate subtleties of nature (God knows I am). The majestic presence of the mountains, the tranquility of ever-flowing streams, and the swaying of oak trees as you walk through a forest is a picturesque description of traveling through the wilderness.
Some of us turn to spirituality and inner peace as we search for ways to slow down and hit the breaks on the fast-paced rhythm of our lives.
Temples that are centuries old and hold great holistic value, fortresses that boast of rich culture and history, and meditation centers that are known for the teaching of philosophy and faith form the perfect picture in terms of breaking free from the monotony and looking deep within.
Some of us are soothed by the strength that builds through physical exertion and the sheer grit to take on adventure headfirst. Hiking through dense forests filled with rare creatures and exotic plant life in order to reach your destination or witnessing the miracle of science as you set eyes on an animal that you've never seen or heard of before creates within you a sense of personal achievement and takes you one step further in your path towards living a life that holds bigger meaning.
Thimphu is a perfect mix of all of the different things a traveler might expect of his or her next trip. A hiking haven for trek lovers, a cultural boon for spiritual travel folks, and a wildlife treasure chest for nature enthusiasts are just some of the many facets of Thimphu. The capital stands tall in its embodiment of the Kingdom of Bhutan as the happiest country in the world!
---
Bhutan Travel FAQs
1)  How to reach Bhutan?
Bhutan can be easily reached from various countries by air, train, and road. 

By Air:

Many countries have flights to Paro, the only international airport to enter Bhutan. Other domestic airports of Bhutan are, Gelephu, Yonphulla, and Bathpalathang Airports.

By Train:

There are no direct train routes to Bhutan. Convenient train options from India are Aliurduar, Siliguri, New Jalpaiguri, and Hasimara. From these stations, tourists can reach a definite station and then take a Cab or local transport. 

By Bus: Indian travelers can take a bus journey to reach Phuentsholing (Bhutan) from Kolkata. The bus journey may take up to 18 hrs to reach Phuentsholing. A bus from Siliguri, West Bengal can also reach Phuentsholing and it takes less than 4 hours to reach.
2)  Is a visa required for Indians to visit Bhutan?
For Indian travellers, visa is not required to visit Bhutan. They can carry either a passport of minimum 6 months of validity, or the voter identity card issued by the Election commission of India. 
3)  What should I pack to Bhutan?
If you are visiting during summers, you can pack heavy cottons and lightweight woolens. During winters, pack warm clothing like jackets and sweaters. Usually pack comfortable shoes, and soles. 
4)  When is the best time to travel to Bhutan?
The ideal time to visit Bhutan is between September to November. This time is perfect for treks, and you can experience the festivals like Thimphu Drubchen, Thimphu Tshechu and Black Necked Crane Festival,  when the town becomes vibrant with music and dance performances.

During January and February, you can experience a cold Christmas in the Himalayas and find snow and in the mountains and glaciers. During April to late spring, you can witness the famous rhododendrons bloom spectacularly, flooding the valleys with colour. 
5) . Is altitude sickness common in Bhutan?
Bhutan situated on the belt of eastern himalayas, ranges from 900 to 3354 m altitude. 

Altitude sickness like dehydration, fatigue, shortness of breath, dizziness and insomnia are common in Bhutan. To avoid these, you should stay hydrated or you can ask your doctor for any altitude meds.
6)  Do Bhutanese speak English?
The national language of Bhutan is Dzongkha, a Tibetial dialect. But, English is commonly spoken as it is the medium of instruction in schools. 
7)  What kind of food should I expect in Bhutan?
Bhutanese style cuisines usually contains chilies. The meals served in the hotels mostly are usually served with cooked vegetables, rice and meat and often rice is served plan with vegetables or with cheese. Chinese and Indian-style food are also available.
8)  Do I need a walking stick?
If you are relatively steady and have good walking shoes, you may not need one. It depends on how fit you are. If not, you can find sturdy sticks along the way.
9)  Can I bring Indian rupees to Bhutan?
Bhutan's currency is Ngultrum(BNT). But, Indian rupees of  INR 100 AND 500 can be used in Bhutan, whereas the INR 500, 1000 and 2000 are not acceptable.  
10)  Are ATMs available in Bhutan?
There are a few ATMs in Bhutan but they may or may not accept foreign credit/debit cards. You change money at the airport or in Thimphu.
11)  Do vendors usually take credit cards or do small vendors not have the equipment?
Credit cards are only accepted in a couple of shops in Thimphu and one shop in Bumthang. And, these shops charge something like 7% for the transaction fee.