This was my second visit to one of the most beautiful cities in the world, Cape Town. Thanks to my job that paved way for me to go to Cape Town, (aka Mother City) a coastal city in South Africa. I work for a reputed biopharmaceutical company in Bangalore. My first trip to Cape Town was in 2013 in the month of July, for equipment qualification for one of our esteemed clients. After my first visit, I always wished to visit my beloved city again. The wish came true in 2016, when I got a second chance to visit Cape Town for equipment qualification as a site lead, for the same client. This time the duration of our work was a bit longer than the previous one, it was almost a month. We (I and my team) traveled to Cape Town via Abu Dhabi.
It was 10.00 PM when we landed in Cape Town. Ms.Penny, the apartment owner greeted us and drove us from the airport to her apartment , Old Mutual building in Darling Street. The old mutual building is a massively tall building built in 1930 and looks like a period piece. The building is used for both commercial and residential purposes and is located in the heart of the city. Penny showed us the apartment and handed over the keys. This would be our home for another 30 days. Our workplace was just 10 minutes drive from the apartment and we took cabs for commuting.
First two weeks were hectic as we worked for longer hours to complete the planned activities. My team had 2 other members, Jeevan and Monty. It was one day while I was narrating my trekking experiences when Rowan (from client's company) suggested me to hike the very famous table mountain. He was kind enough and volunteered to accompany us. I had been to Table Mountain on my previous visit but never knew that there were options to hike as well. We planned the hike on a week end (remember work was more important!). I was super excited as this was my tenth trek and I couldn't have asked for a better place. Rowan and his friend picked us from the apartment and we drove to Table Mountain.
Table Mountain is a flat-topped, table like stunning mountain providing a view of the entire city of Cape Town in South Africa. The mountain is part of the Table Mountain National Park. It is 1,086 meters (3,719 ft) above sea level. The lower part in the south of the main plateau is called the Back Table. The mountain range is known as the Twelve Apostles. The horizontal top of the mountain when covered by clouds forms a table cloth over the mountain. This is an adventurer's hub. Activities like hiking, rock climbing; caving and mountain climbing can also be done at Table Mountain.
There are many trails with varied difficulty. One can choose from any of them. We started our trek from Platteklip Gorge (Flat Stone Gorge). We enjoyed the views, the flora, the fauna and blended in with the mountains. The trail was stony throughout, with intermittent steep ascents and the path was neatly carved out. We met many people from varied age groups, mostly families, on our way up. Their greetings and smiles kept us going. We halted at places which offered great views of the city and the Atlantic Ocean. It took us about 3 hours to reach the "flat peak".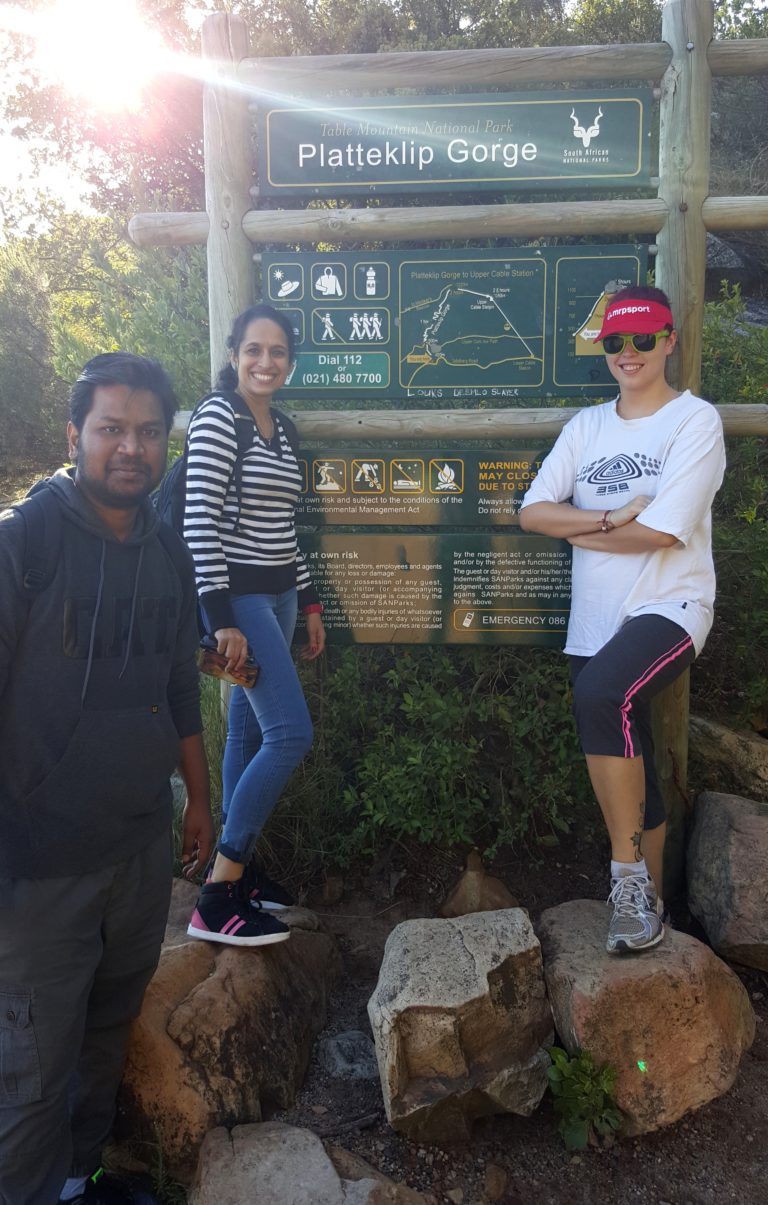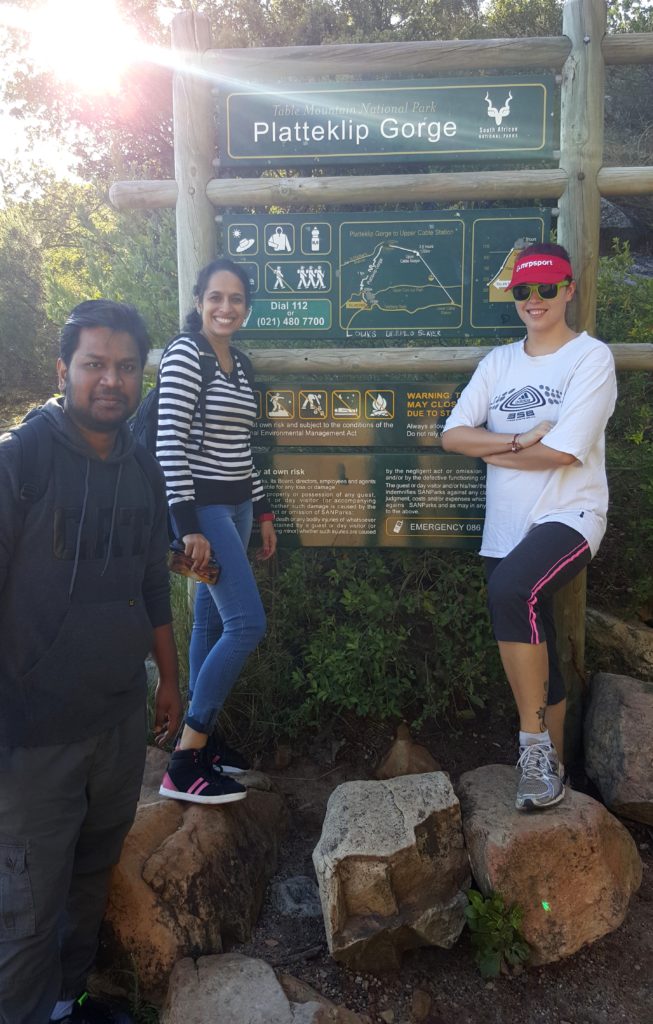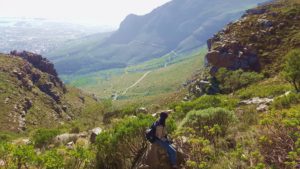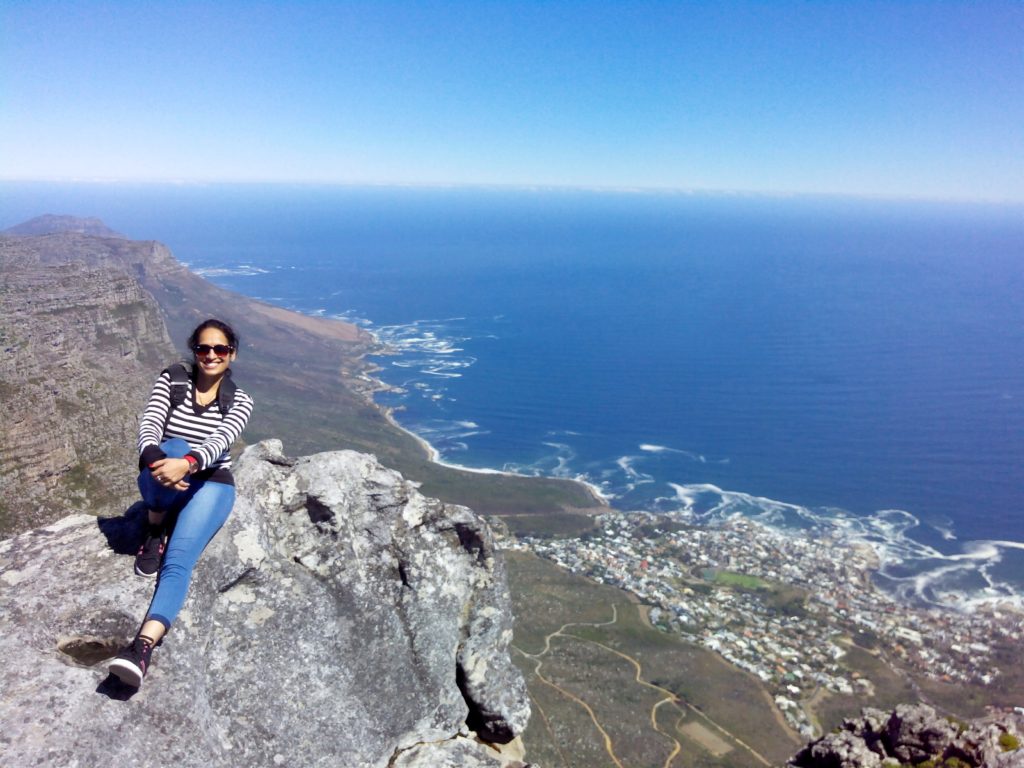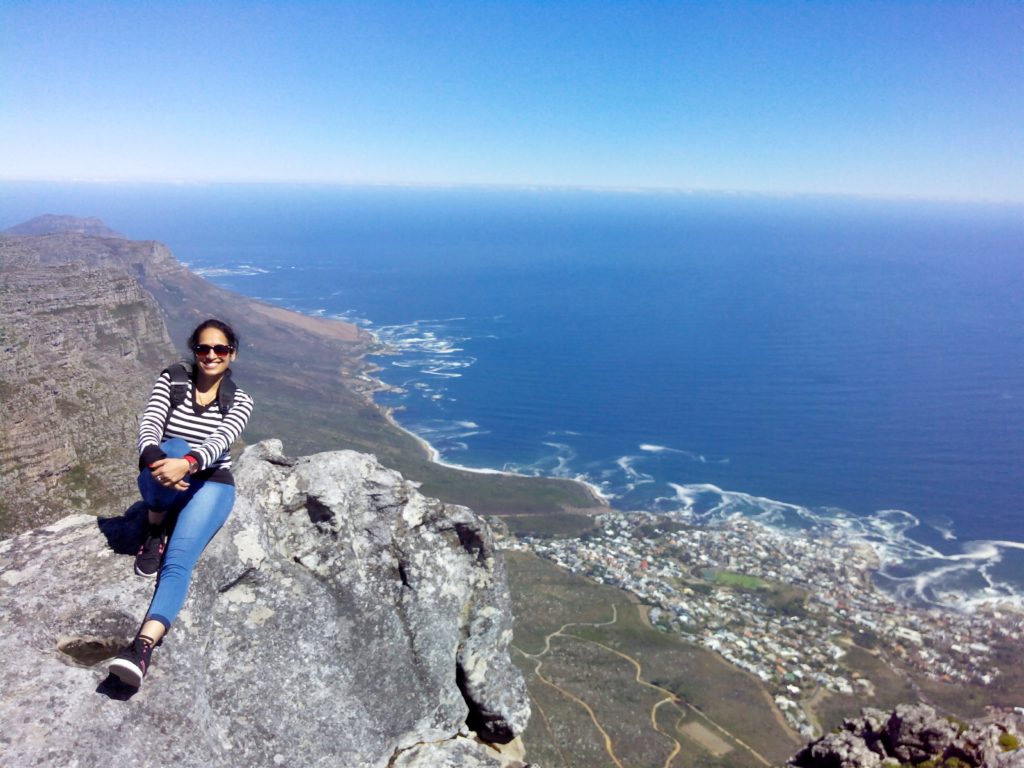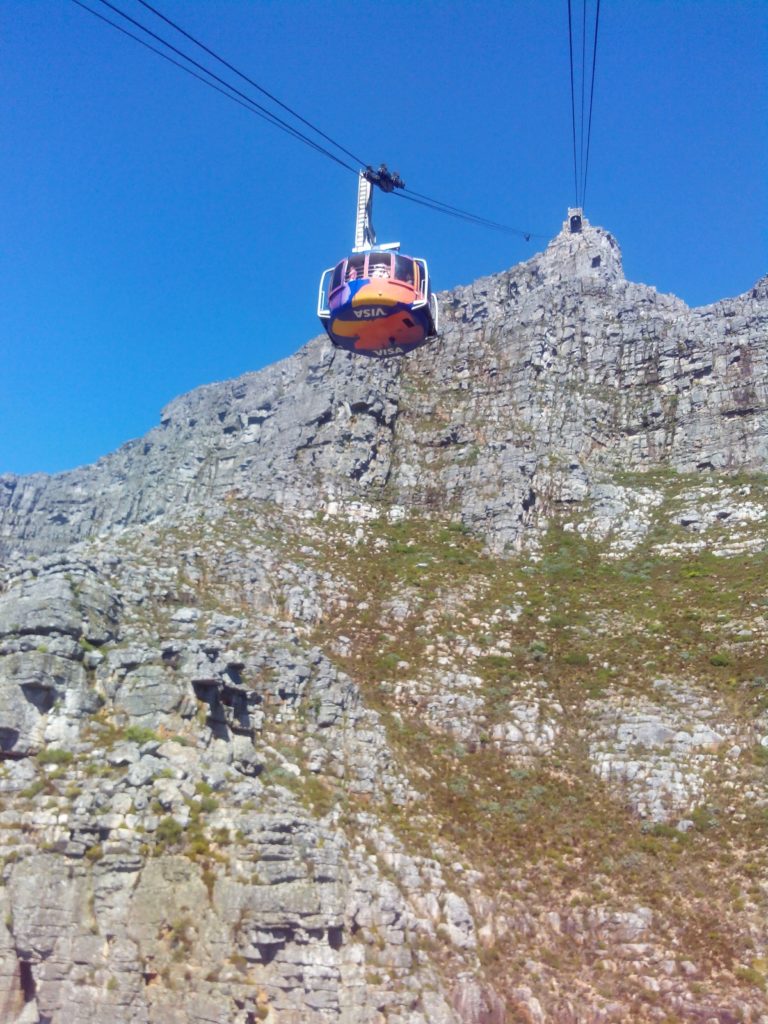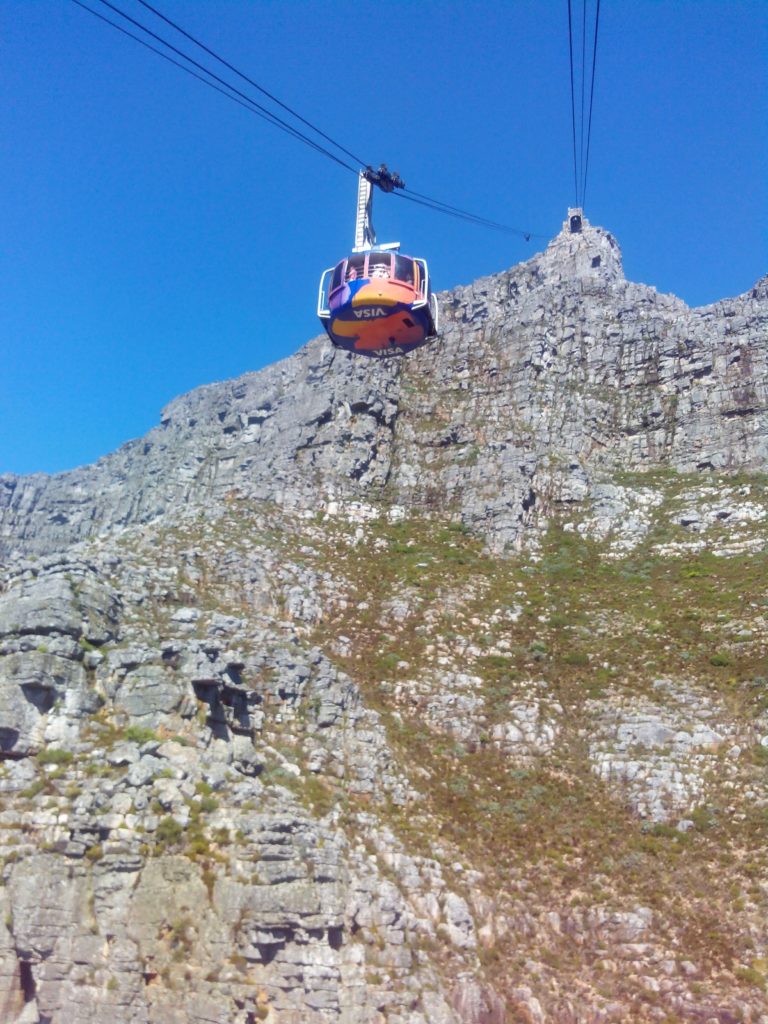 What we saw was breathtaking blue Atlantic Ocean with Devil's peak (in the east) and Lion's head (in the west).Signal hill on one side and Cape city on the other side. This full view is famously called Cape bowl. We felt like we were on an island. The cliffs were phenomenal and dangerous at the same time. I missed my husband terribly. But I ensured I took loads of pictures for him.  We spent about an hour at the top and took the cable way to descend. Cable way one of the highlights of Table Mountain. This can be taken to go up as well. The way down was equally stunning. If time permits one can stay back to view the sunset from table Mountain.
There are many other places like Devil's peak and Lion's head where people go hiking. Few must visit places are V&A waterfront, Kirstenbosch botanical garden, Signal hill, Chapman's peak, Hout Bay, Camp's Bay and Cape point. If you plan an elaborate trip (5-6 days is ideal) then I suggest you to do the hop on and hop off red bus city sightseeing tours: https://www.citysightseeing.co.za/content/page/about. I did it and it was great. There are many options to fly to Cape Town, one can choose according to convenience. One can book the accommodation from Airbnb, hostel world etc. Food will not be a problem as there are lots of options to choose from.
P.S: This story was shared with Plan The Unplanned by Divya.