Hampi- Get Stoned!
I was pretty excited about Hampi. No idea why, but I was. I had an intuition that this place, be it a little barren or a different terrain in all, is definitely holding in itself, a surprise for me. The more I thought about it, the more I became restless and eager to go. And one fine morning, I found myself in the once-magnificent capital of the Vijaynagar Empire.
Here are few of the reasons as to why this trip was a soul-stirring episode:
1) Go across the River to the Hippie Island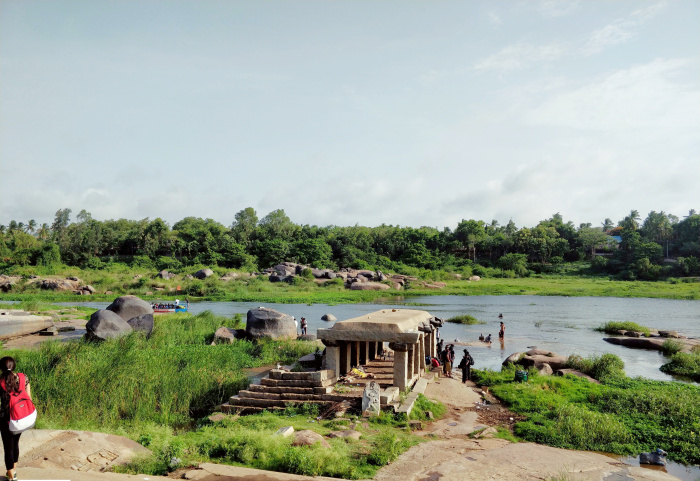 Hippie Island or Hampi Island (not litreally an island) is situated on the other side of the Tungabhadra river, just 2 km walk from the Hampi Bus Stand.
A place that should never be missed while in Hampi, is less known to the travelers. People are unaware of the existence of a beautiful countryside across the river which is easily accessible by a ferry costing Rs 50/- per person. Last round of ferry takes place at 5:30 pm. So, if you have a room booked at Hippie Island, be sure to get in the last one, otherwise, you will have to cover around 40 Kilometers on road to reach your place on the Island and that would shake your pocket.
As soon as you step out of the ferry, a cemented uphill pathway, filled with street vendors selling handmade jewelry, bags and other accessories, lead you to a village called Virupapura Gadde. Hills comprised of rocks and stones, trees and paddy fields running parallel to homes turned into cafes and shacks, seemed to be a perfect countryside escape away from the entangled city life.
I would definitely suggest you opt for stays at Hippie Island rather than Hampi Bazaar side. Stays here offer basic rooms, ranging from INR 700 to INR 2000, with nothing more than a bed and a fan. And, they do offer a view of vast landscape intermingled with large boulders and paddy fields.
Graffiti on the walls along the village road will definitely seek your attention. Isn't it a cool village? Yeah, it really is!! The main reason for this is because the Hippie foreign backpackers who fall in love with this place make it their home during their stays at Hampi.
2) Coracle Ride at Sanapur Lake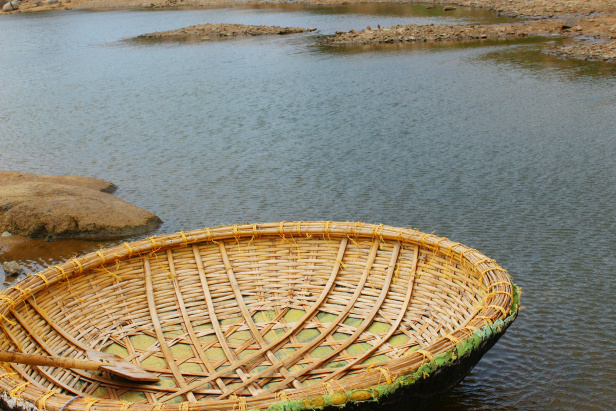 Rent a scooter or a moped at a cost of just Rs 250/-per day and hippie island is all yours to explore. The beauty of Hippie Island resides in this vast body of water. The drive of 5 km from Virupapur Gadde to Sanapur lake is the first thing that will leave you awe-struck and fly. Take a tour of the lake in Coracle. You can even swim in the lake but at your own risk. When the water level is high, one can even try cliff jumping as well, but again, at your own risk with some local guidance.
3) Ride through Rural Anegundi
Why Anegundi? The drive from the lake to Anegundi is what you are going to fall in love with. It gives you the perfect feeling of driving on a glossy road making its way through the boulders and boundless fields. Glances of so-called kaccha & pakka houses, goats, and sheeps grazing will leave an impression of an ideal countryside.
The Anegundi Fort and Durga Temple are the major attractions. If you don't mind physical exercise, you could climb the 572 steps on the Anjaneya hill to the Anjaneya Temple, believed to be the birthplace of god Hanuman.
And don't think twice before changing routes or exploring new places all by yourself.
 4) Cafe Time
Starting from the morning, we explored almost all of the island till noon. From noon, till sunset, we took shelter at Hema Guest House cafe. Hippie Island has plenty of good and relaxing cafes. Some of the best cafes are The chill lounge cafe, Hema Guest house, and Gouthami cafe. All of them serves a variety of cuisines like Indian, Italian, Mexican, Chinese, Continental, Israeli Food.
5) Bouldering with Mowgli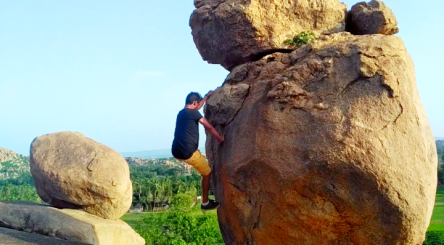 We made friends with our cafe owner, Mowgli, as intriguing as his name, born and brought up in Hampi. He helped us a lot by telling all the good places and things to do. He made us try bouldering in which he was a pro and we failed immensely. You can talk to your cafe's staff for arranging bouldering gear and course. This activity will definitely be fun and thrilling.
6) Musical Sunset
Mowgli had said "Explore the Hippie Island but be back by 4:30 pm, I will take you to the sunset point. It is just a walk away." And I asked him if it was really that good and he replied "Dude!! What are you talking about. It's the best". I didn't know that it would also be the most amazing and unique of all the sunsets that I have ever experienced.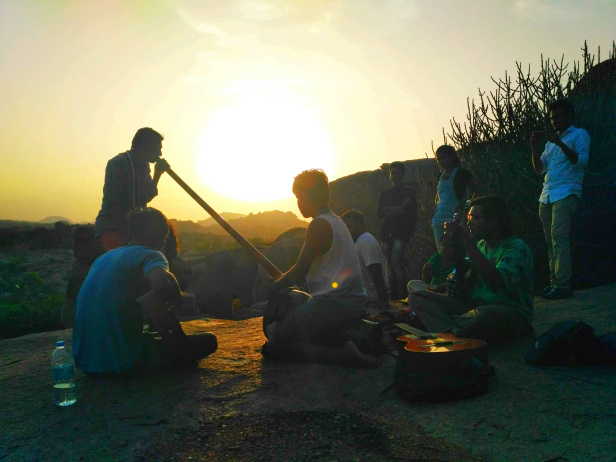 Locals and travelers carrying their own instruments started randomly playing music that synced in with the wind and setting sun. The jam session happens only on weekends and definitely not to miss. What a magical way of saying goodbye to the magnificent day and welcoming night cheerfully. View from Sunset Point, Hippie Island
The sunset on the Hampi Bazaar side is quiet, peaceful, religious and serene. You can save it for next day. You will be left amazed at seeing the rocks, stones, and sky changing colors to offer you a majestic experience.
7) Reserve the Night
After the day well spent, it was time to party. Locals and travelers who played at the sunset were no more unknown to us. We talked, laughed and walked our way back to the cafe together and partied harder!! Thanks to generous Mowgli who arranged special things for us.
Hema Chill Lounge and Cafe at Night
The jam session was recreated at the cafe. All night, we danced to the drum beats, munched food, played games and shared our bits of life experiences. I wish, that night never ended.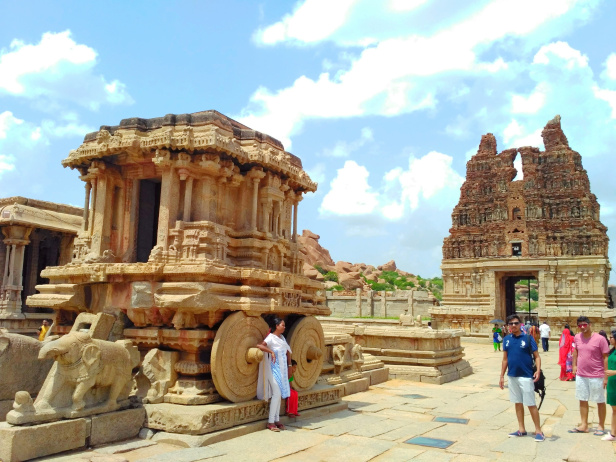 8) Cycle through the land of Flinstone
After having spent 24 hours with ecstasy, we not at all wanted to leave Hippie Island, but the other side of Hampi was waiting for us. The best time to visit Hampi is October-February.
You can either rent a cycle for just Rs 150/- per day or hire an auto-rickshaw to visit the temples and palace. Hiring the auto will lighten your pocket as it ranges from Rs 600 to Rs 1200. Renting a bike is difficult on this side, as there are very fewer rentals. If the weather is pleasant, definitely rent a bicycle and to let you know, its a lot of distance to cover, almost 20kms. So make up your mind and Hampi is all yours.
You will encounter many scenic landscapes and views, ruins or temples being always the part of them. Let, pictures do the talking now:
" The feeling of living amid the ruins of one of the greatest Hindu kingdoms that have managed to keep the cultural and natural beauty as intact as possible will take you to your roots. It will remind you, how often we forget where we come from, what have we done to our very own civilizations, we have molded the originality according to our own convenience, how greedy we have become, how often we forget the fact that real happiness lies in the simplicity, ingenuity, and harmony. Though Hampi, it is untouched, so clean, so fresh, so rooted. After ages, I saw vast brown and green landscape with colorful butterflies as many as raindrops before my eyes. Yes, a very minute detail out of all my experiences in Hampi but a rare one. Its always been simplicity, peace, origin, calmness, purity and nature that I strive for. Nothing more!! And, Hampi had it all."
Check out upcoming dates for Hampi here
This article was originally published on BeautiesRevealed.