When we hear about treks, we assume that there would be lofty mountains or lush green hills to welcome us. Well, if you want to try something different, then here's a chance to join us for the Gokarna Beach Trek.
Gokarna, a temple town about 484 km's from Bangalore, is on the Western coast of India. Located in the Kumta taluk of Uttara Karnataka, the main deity is Lord Shiva,  also known as Mahabhaleshwara. This temple houses what is believed to be an original image of Lord Shiva's lingam (Atmalinga).
Apart from being one among the seven most important Hindu pilgrimage centers, it is known for its scenic and rustic beaches. The drive up the winding path is serene and leads to rocky mountains, with the Western Ghats on one side and the Arabian Sea on the other.
So let's spend a weekend away from the city on the scenic beaches of Gokarna and come back with memories to be cherished for long.
Alert: Other treks happening this Weekend(15th – 17th Dec)!!!
Explore Hampi – Heritage Hike, Bouldering and Camping
NEW YEAR DATE
30th Dec 2017-1st Jan 2018

(Music, Sky lanterns, and Bon-Fire)

CHRISTMAS DATE
23rd – 26th Dec 2017 (With Camping – Book Here)
LOCATION
Bangalore
TREK LEVEL
Easy-Moderate
DISTANCE
10 km
DAY 0

Leave from Bangalore at 11:00 AM

Reach homestay
Spend time at Kadle Beach
Rest for the day

 DAY 1
 Trek To:

Paradise Beach

Half Moon Beach

Rock Climbing

Dolphin's Point

Om Beach  

Celebrate New Year at Kudle Beach

DAY 2

Visit Jog Falls & Mirjan Fort

Reach Bangalore by 11:00 PM (approx)

INCLUDED

 

Transportation(Non AC) to and fro from Bangalore

Sharing basis accommodation in homestay.
Experience that you gain
Local transport within Gokarna

NOT INCLUDED

| | |
| --- | --- |
| All meals | Any kind of insurance |
|  Personal Expense(snacks, mineral water etc.) | Anything not included in the inclusions above |
If you wish to experience the thrill of trekking with a difference Plan the Unplanned presents you a beach trek in Gokarna. Gokarna has several beaches and the trekking trail is popularly known as "Golden Trail". The trek begins from the Belekhan Village and ends at Kudle Beach. You would be walking along the beach side, climbing the boulders and crossing several beaches like Paradise, Hell of a Beach and more. So what are you waiting for, just get a beach trek strike off your bucket list and cherish wonderful memories with us forever!

How nice would it be if all your travel plans were already made for you?
When on a trip to a place like Gokarna, there are chances that you may miss out those unexplored beaches due to lack of time, information or sheer confusion.Well, we'll make sure that you don't miss out anything.
Albums/videos:: Facebook, Meetup, Youtube, Instagram
For detailed itinerary click on the itinerary tab.
Subscribe to Event Updates
For booking enquiry you can call us at: 9035182699, 9428909952
The beach forms the coast of the town and is followed by the main beach in the North, while the other four beaches lie in the south. The Main Beach, used by Indian pilgrims, is a long open beach, known for surfing. Kuddle and Om are around 6 km from Gokarna town and one should hike to these beaches to enjoy the view of the sea.

Here is what you need to know about Om Beach? It is named so because it is shaped like the auspicious ॐ Om symbol.Well, you could take a look at the beach from the famous Dolphin's point. If lucky, you may spot some beautiful dolphins too. Half moon beach and Paradise beach, the off-beat beaches, are beyond Om beach and only accessible by foot. .

So let's spend a weekend away from city in the scenic beaches of Gokarna and come back with memories to be cherished for long.

Day 0: Depart for Gokarna
Leave from Bangalore at 11:00AM
Day 1: Explore Beaches
As you reach the charming town of Gokarna, we head to our stay for a quick nap and some grub. From there, we will head to God's Own Beach for our adventure.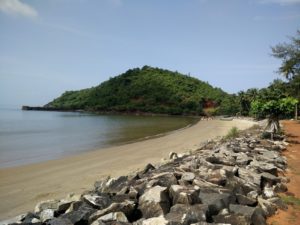 First, we will take a walk along the dense trail to reach the beautiful Paradise beach. And then, along the magical shores, we'll climb the boulders to reach Hell of a Beach. Hell of a Beach is a very small place where hippies have a small settlement for their share of fun.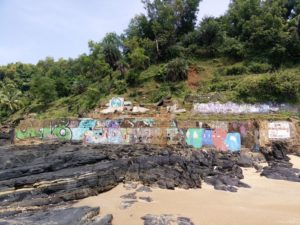 The next destination is the Half Moon Beach, where you can take a dip in the waters of the Arabian Sea, and if you are interested in beach sports, then you can play a round of beach volleyball as well! You can take your time to sit and relax at the beach.Later that day, we'll walk into the woods to reach the Dolphin's Point and then proceed to Om Beach.Om Beach has several cafes that'll definitely tickle your taste buds. Although the popular cafes like Nirvana and Namaste Cafe offer you good food, there are many more to explore.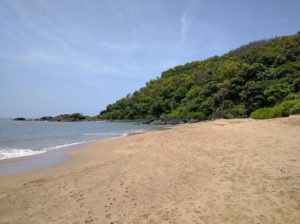 After a sumptuous meal, we now head for a small hike into the forests to reach the Kudle Beach and then, towards Gokarna beach, which is the sunset point. The setting sun, that slowly disappears behind the horizon, is a visual bliss.Everyone enjoys the beauty of the sunset as it is nature's farewell kiss. We'll head back to Kudle beach to explore more and then towards our stay.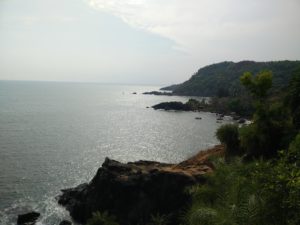 With much memories of the day, you can head back to your stay for a good night's sleep, as the sea waves keep playing the lullaby.

Day 2: Mirjan Fort
This majestic fort easily goes unnoticed if you do not know about it particularly. It is about 24 kms south of Gokarna on NH 17. A narrow and broken 750 metres long road from NH 17 leads to the fort. The fort, known for its architectural elegance, was the location of several battles in the past. The fort is located on the banks of Aghanashini River, tributary of Sharavathi River.
It'll be great to explore the history of a fort that's mostly missed by regular tourists.Later that day, we'll head out for Bangalore, so that we can be back by 11PM.
NOTE:
Consumption of alcohol, intoxicants, and smoking would not be tolerated during the entire course of the journey. Kindly co-operate with us to make the experience more fun.
Put Litter in its place, do not trash the mother earth.
In the case of traffic delays or breakdowns, expect a few delay in reaching the destination.
Rafting would be seasonal.
Following are your pickup/drop locations. You could let us know which would be appropriate to you before the trek in advance. Also note, the drop points would be the same as pick up.
Fabindia – House No. 54, 17th Main Road, Opp. Madivala Masjid, Koramangala 2nd Block, Sidharata Colony, Santhosapuram, Koramangala 2nd Block, Koramangala, Bengaluru, Karnataka.
New Shanti Sagar Hotel – Old Airport Road, Domlur, Bengaluru, Karnataka.
KTM Mekhri Circle – Mekhri Circle Junction, Raj Mahal Vilas Extension, Armane Nagar, Bengaluru, Karnataka.
Kindly note the timings for the above pickups, would be updated to you a day before the trek.
We request you to kindly carry the following. It's better to be prepared rather than not prepared.
Yourself (That's most important – after all you paid us!)

Rucksack (Just stuff your things in!)

2 water bottle – 1 litre each (Hydration is much needed.)

Torch/Headlamp (It'll be really dark at night.)
Portable charger (You might just want to keep your phone aside, but then, selfies toh banta hai!)
Deodorant (You shouldn't stink!)
Paytm balance (Thanks to Demonetization)
Money (You'll not need it, but do carry some!)
Energy Food ( Chocolate bars, Electrolyte drinks – Glucon-D, etc ) (You can carry some extra – we don't mind to share!)
Raincoat / Bag cover (Of course, you don't want your rucksack to get all wet!)
An extra pair of clothes, socks, undergarments, T-Shirt (And we don't want you to walk in drenched clothes!)
Flip-flops (Just to laze around the campsite.)
First Aid Kit (along with personal medicine as per your requirement)
Toilet kit (Not much would be required – just your toothbrush would do)
Towel (Oh! We believe in saving water. Let's ditch bathing for two days!)
OPTIONAL: VOLLEYBALL, FRISBEE, AUX CABLE, UNO, BLUETOOTH SPEAKER,  GUITAR/ANY MUSIC INSTRUMENT, or any other games.