"Rajgad", meaning 'Royal Fort', is one of the biggest forts in Maharashtra, India. The fort is around 1,400 m (4,600 ft) above sea level. Formerly known as 'Murumbdev', it was the capital of the Maratha Empire during the rule of Chhatrapati Shivaji Maharaj for almost 26 years, after which he moved the capital to Raigad Fort. The fort is located 60 km to the South West of Pune, about 15 km West of Nasrapur, in the Sahyadri range.
The fort is a significant site for trekkers and travellers seeking some real adventure. Especially after the monsoon, this place becomes one of the most sought after trekking destinations for trekkers from Pune and Mumbai area. Since the fort covers a massive area, exploring all the sights and spots around the fort becomes difficult in a day and hence visitors opt for an overnight stay, to get ample time to explore all the parts of the fort. The Padmavati Temple inside the fort complex can accommodate around 50 people.The fort is divided into four parts: Padmavati Machi, Suvela Machi and Sanjeevani Machi, and Bale Killa (small fort), according to its different geographical terrains.
TREK DATE
New dates will be announced soon
LOCATION
Mumbai
TREK LEVEL
Moderate (difficulty level is subjective)
DAY PLAN

Depart from Mumbai by 11:00 PM(10th Dec) and reach Gunjavane by 5:00 AM (approx)

Start the trek by 7:30 AM

Reach the top by 11:00 AM. Explore the fort.

Start the descend by 1:00 PM

Reach the base by 2:30 PM and have lunch

Reach Mumbai by 9:00 PM (approx)

INCLUDED

| | |
| --- | --- |
| Transportation to and fro from Pune | 1 breakfast – 1 lunch |
| Guide and entry charges |  Experience that you gain |

NOT INCLUDED

| | |
| --- | --- |
| Any kind of insurance | Personal Expense( snacks, mineral water etc.) |
| Anything not included in the inclusions above. | |
How To Reach:
There are different ways to reach Rajgad, one of the easiest but the longest is via Vajeghar-Pali.
One of the most frequently trekked routes is from Gunjavane Village via the Chor Darwaza to Padmavati Machi which takes around 2 to 3 hours.
There is another route from Gunjavane village that enters the fort through the Gunjavane Darwaza, but this is tricky as it involves rock climbing and an expert guide.
Another interesting route is from Bhutonde village that enters the fort via Alu Darwaza. This route, however, cannot be taken during monsoon as it becomes difficult to reach Bhutonde village which is in the foothills of Rajgad, after crossing the Bhatghar dam.
So, if you want to spend your weekend away from urban cacophony and ditch the regular parties, then Rajgad Fort Trek is the best option for you, and you get to experience the thrill on this adventurous trek.
Albums/videos: Facebook, Meetup, Youtube, Instagram
For detailed itinerary click on the itinerary tab.
Subscribe to Event Updates
For booking enquiry you can call us at: 9035182699, 9428909952
Day 1
Our trek starts from the Gunjavane Village. From here the trail is relatively easy, taking you through the woods. After walking for about an hour, you reach the flat surface from where you'll get the first glimpse of the Rajgad Fort.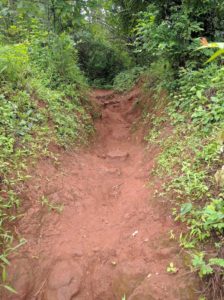 As you'll walk ahead, the trail will be moderately sloped, and there are steep ascends till you reach the 'Chor Darwaza'. On the way, you would see beautiful landscapes of the Sahyadri range, and all your senses will be soothed by the colors of nature, and the melodious chirping of woods.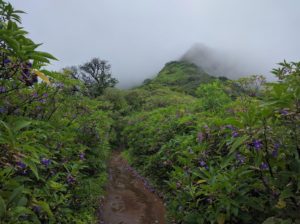 Further, there is a steep ascend to Chor Darwaza, where one needs to do a little bit of climbing. One can take the help of railings and climb safely to reach the "Chor Darwaza".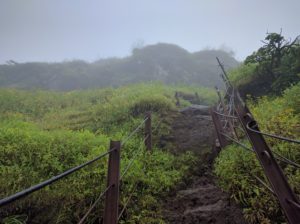 You'll then reach Padmavati Temple and where you can grab some quick lunch.We'll explore the fort area and then proceed to Bale Killa. The climb to Bale Killa is a steep ascend and requires good climbing skill. We mould make use of the railings to make the climb easier and safer and reach the Maha Darwaza of the Bale Killa. Bale Killa is the highest part of the fort which has remains of residential buildings, water cisterns, and caves.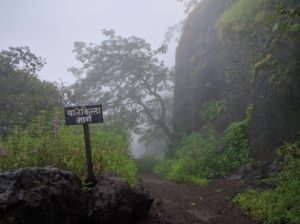 One can see the whole fort and the vast surrounding expanse. It's easy to spot Torna, Sinhagad, and Purandar from Bale Killa. For all you people who love photography, this would be a delight for you. Not only the architectural ruins, but the beauty of nature unfolding around the fort would definitely make you take a thousand pictures! We'll try to reach the Gunjavane village by evening and aim to reach back to Pune by 9:00 PM.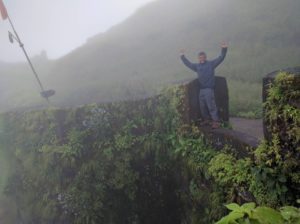 Often in the hustle and bustle of our daily lives, we get so caught up with the monotony that we miss out the little things that the world has to offer us.If this sounds exciting to you, do join us for this adventure trip, and we promise that you'll return back with loads of good memories.
NOTE:
Consumption of alcohol, intoxicants and smoking would not be tolerated during the entire course of the journey. Kindly co-operate with us to make the experience more fun.
Put Litter in its place, do not trash the mother earth.
In the case of traffic delays or breakdowns, expect a few delay in reaching the destination.
Following are your pickup/drop locations. You could let us know which would be appropriate to you before the trek in advance. Also note, the drop points would be the same as pick up.
Shivajinagar ( 6:00 am), near Bank Of Maharashtra, Narveer Tanaji Wadi, Shivaji Nagar, Pune, Maharashtra.
Ram Mandir (6:30 am ), Swargate Chowk, Gultekdi, Pune, Maharashtra.
Kindly note the timings for the above pickups, would be updated to you a day before the trek.
We request you to kindly carry the following. It's better to be prepared rather than not prepared.
Yourself (That's most important – after all you paid us!)

Rucksack (Just stuff your things in!)

2 water bottle – 1 litre each (Dehydration is much needed.)

Torch/Headlamp (It'll be really dark at night.)
Portable charger (You might just want to keep your phone aside, but then, selfies toh banta hai!)
Deodorant (You shouldn't stink!)
Paytm balance (Thanks to Demonetization)
Money (You'll not need it, but do carry some!)
Energy Food ( Chocolate bars, Electrolyte drinks – Glucon-D, etc ) (You can carry some extra – we don't mind to share!)
Raincoat / Bag cover (Of course, you don't want your rucksack to get all wet!)
First Aid Kit (along with personal medicine as per your requirement)
OPTIONAL: AUX CABLE, UNO, BLUETOOTH SPEAKER,  GUITAR/ANY MUSIC INSTRUMENT, or any other games.